Yongnian District, Handan City, Hebei Province, is known as"The Capital of Fastener"in China. With 55% of the market share, it is the only local industry in Handan with an output value of over 30 billion yuan. In recent years, the zone has adhered to scientific guidance, standardized regulation, reduction and efficiency improvement, promoting enterprises to leave the city and enter the industrial park, reinventing the industrial chain, and constructing"Interconnection and sharing"economy. Up to now, Yongnian District has found a new path to green and high quality innovation of the fastener industry.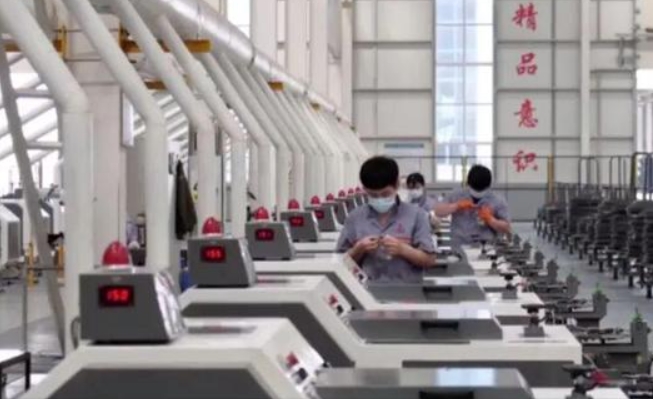 1. Implementing the policy of"Leaving the City And Entering the Industrial Garden" to push the transformation and upgrading of the Fastener industry.
As the costs of production factors such as land, resources and raw materials rise and the capacity of the ecological environment is approaching its upper limit, we should speed up the industrial transformation and upgrading, promote the environmental protection, and carry out the project of"Leaving the city and entering the park"in order to fundamentally solve the problems of thefastener industry. 4 Fastener parks are planned to be built, 67 enterprises in the main urban areas are to be moved out of the city and into the industrial park, 876 air-polluted fastener enterprises are to be forced to upgrade their fume treatment equipment, and the regulation of the electric welding processing industry is to be strengthened. At the same time, we will intensify the clean-up of high-emission non-road mobile machinery in"Low emission areas", strengthen testing, coding and registration,
2. Promotion of manufacturing chain reengineering to promote the high-end fastener idustry development.
One method is the manufacturing chain reengineering. The introduction of Shenzhen Daiwa Machinery, Guozhi Machinery and other leading high-end equipment manufacturers, realises the annual output of cold forging equipment nearly 1,000, which is a giant leap from the manufacturing of fasteners to equipment manufacturing . At present, more than 1500 sets of fastener equipment are updated every year, which has laid a solid foundation for middle and high-end fastener production.
3. Production chain reengineering.
In the recent years, a large number of high-end projects, such as Tongfa High-speed Rail Equipment, Zhaoyun Ultra-highVoltage Power, Tuofa Power Generation Hardware, Shisheng Fasteners from South Korea, and Jinshengda from Hebei Crovince, have been introduced into Yongnian District, whose products are widely used in high-speed rail, automobile, aerospace and other fields and cover 80% of the high-end products in Yongnian District fastener industry.
4. The detection R & D Chain Reengineering.
Using the R & D platform of the Hebei fastener industry technology research institute. The enterprises actively collaborate with Hebei University of Engineering, Hebei University of Technology and other universities to carry out industrial"Blood transfusion and hematopoiesis. we have successfully developed 22 technologies, such as zn-al co-permeation and ultrasonic cleaning, among which ultrasonic cleaning is widely used to replace traditional pickling process and greatly reduces environmental pollution. The inspection center of Hebei fastener industry technology research institute has been specially established to strictly control the product quality of fastener enterprises in the whole district.
5. Surface treatment chain reengineering.
hengchuang Environmental Protection High-end Fastener Industrial Park, is one of the largest domestic fastener surface treatment industrial park, where the annual output of the fastener surface treatment is 2 million tons. In this park, 6,000 tons of waste water is treated every day, and almost 100% of the industry waste is recycled,which has greatly enhanced the overall imageof Yongnian fastener industry.
6. Build"Interconnection and sharing"to help fastener industry go abroad.
First, build an" Internet Cloud" trading platform. Aimed to the situation of epidemic prevention and control at home and abroad,we use 5G" network to attract merchants from all over the world. China Yongnian Fastener Innovation and Entrepreneurship Center, and Shandong Tongfa Group Co. , Ltd. signed a strategic cooperation agreement to promote the"Internet plus" development, to achieve big data sharing, "Cloud" platform sales, to further expand the popularity and market share of Yongnian fastener. The introduction of Huamei Chain Traceability Big data Platform, Baidu "Love procurement" and other well-known National Big Data Enterprises makes Yongnian fastener industry wellknown in domestic and overseas market.
the second is to create international brand exhibitions. "Based on Yongnian, serve the whole country, radiation the world", we will transform the 13.5 square kilometers of fastener distributiong center over the Yongnian Ming River to an international fastener business center. China Yongnian Fastener Expo Center, has successfully held China Yongnian Fastener Manufacturers' friendship and product exhibition. China Yongnian County Fastener and equipment exhibition, and eight self-organized exhibitions, with a total turnover of nearly 20 billion yuan.
Third, the planning and construction of land harbors. In order to enable foreign trade enterprises to enjoy the"One-stop" export processing services at home and improve export efficiency, 3.5 billion yuan will be invested to build China International Fastener Land Port Center, where TMS and car-free carrier are adopted to promote the resource intensive integration and industry development of freight market by Internet and organization mode. At the same time, through the big data platform, we can accurately grasp the Yongnian fastener enterprise product freight volume, to achieve"Tax source" effective control.
7. Improve the service level and create an optimizebusiness environmen.
First, deepen the reform of"Letting go of control and service",vigorously promoting"One trip to clean up" and"Do not meet" reform.through the"Network self-help" and"QR code" and other means, we provide efficient and convenient services for enterprises and the masses. Second,. In the light of the problems of funds and land encountered in the process of enterprise construction, the government, banks and enterprises will hold talks on a regular basis to build a financial support platform to help solve the problems of funds; We will intensify the crackdown on illegal land use, dispose of idle land in accordance with laws and regulations, and realize the goal of"Vacating cage and replacing birds", so as to provide land security for the development of fastener industry. Third, create a quality business environment. We should strictly rectify the problems of inaction, slow action, random action and taking credit cards, so as to create a business environment with the fewest links, the highest efficiency and the best service, we will comprehensively accelerate the transformation and upgrading of industries with local characteristics and high-quality economic and social development.
---
Post time: Aug-05-2022